Binky Philips & Rhino Records Release "My Life In The Ghost of Planets: The Story of a CBGB Almost-Was"
Thursday, June 7, 2012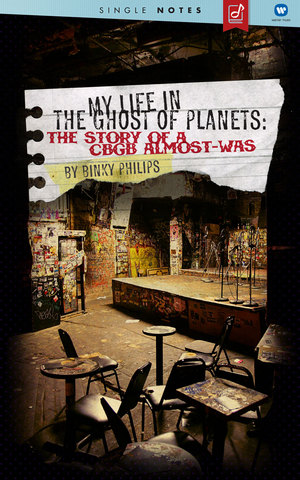 "The actual zygote moment of The Planets' inception took place, beyond appropriately enough, at The Who's first full length concert in New York City on July 8,1967. The dilapidated Village Theater on 2nd Ave and 6th St was less than a year away from becoming the Fillmore East. Anthony and I had tickets in the center of the 15th row and...

"We'd politely sat through Richie Havens, but, the next act up was simply dreadful. They were a dishwatery folk-rock band called Chrysalis, with a wispy blond "chick" singer who, although pretty, stood stock still, and had a listless little voice to match. Anthony and I, two brats from Brooklyn, started heckling, "We Want The Who!" When Anthony yelled out "Get off the stage, you statue!", the older guy sitting next to me burst out laughing and said, "Oh man, I love you guys! I'm John."

"Super handsome, a bit like Sam Andrew in Big Brother, with the longest hair I'd ever seen on a guy, John was 19. We were 14. We three were all full-blown Who loons. A friendship spontaneously combusted in the 15th row.

"It's hard to fathom these days, but, lifelong friendships could be based on the mutual love for that band. I have never been able to fully analyze it, but, there was, among The Who's early fans (pre-Tommy, '65-'68), a sense that you were in on some cosmic secret. John Taylor, Anthony Jones, and I were in on that secret -- deeply, religiously so."

More after the jump...